Ibotta is a coupon and discount aggregator that is free to use and gives you cash back on your purchases.
Ibotta earn advertising revenue and affiliate commissions from brands and retailers. In return, they share a portion the revenue with consumers in the form of cash backs.
The coupon aggregator part of Ibotta works like a digital version of the Red Plum (now knows as RetailMeNot) paper coupons that comes in the mail. Instead of using paper coupons for immediate discount, you register your purchases with Ibotta to accumulate cash back.
The discount aggregator part of Ibotta is like a huge online mall, that gives you varying amount of cash back at over 750 retailers like PetCo, Foot Locker and Eddie Bauer
If you are interested to get started, Ibotta is offering $20 Welcome Bonus for all new sign-ups. This is what I earned in my first week of using Ibotta.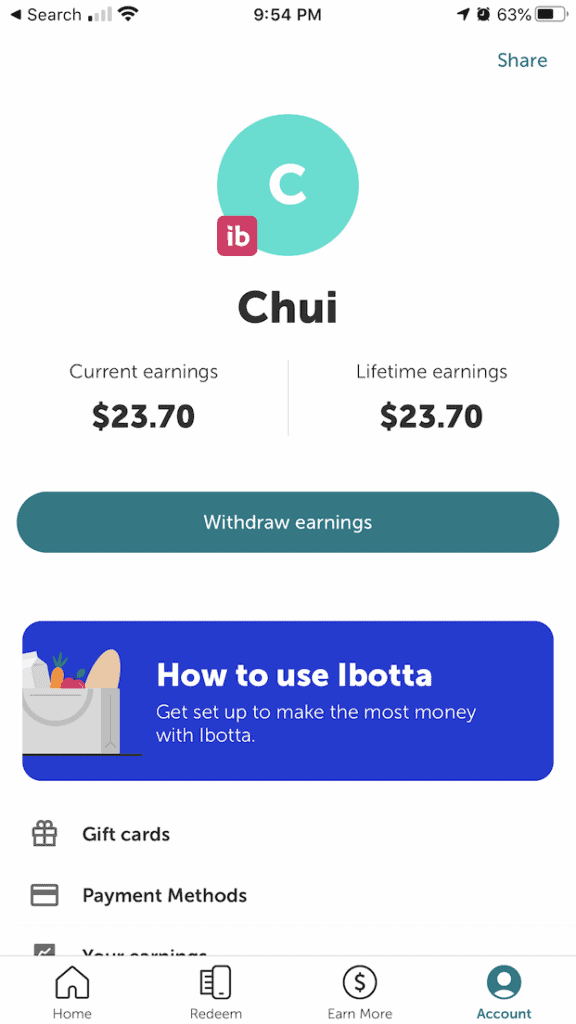 How Does Ibotta Work?
To understand how Ibotta makes money, we need to first take a look at how it works. There are two parts in Ibotta, grocery coupons and online shopping.
Grocery Coupons
As mentioned earlier, Ibotta is like the digital Red Plum fliers. Except that you don't have to hassle with cutting out the coupons and remembering to bring them with you when you go to the stores.
All the coupons are stored conveniently on your mobile app and you can even create a shopping list of just the coupons for items that you are interested in.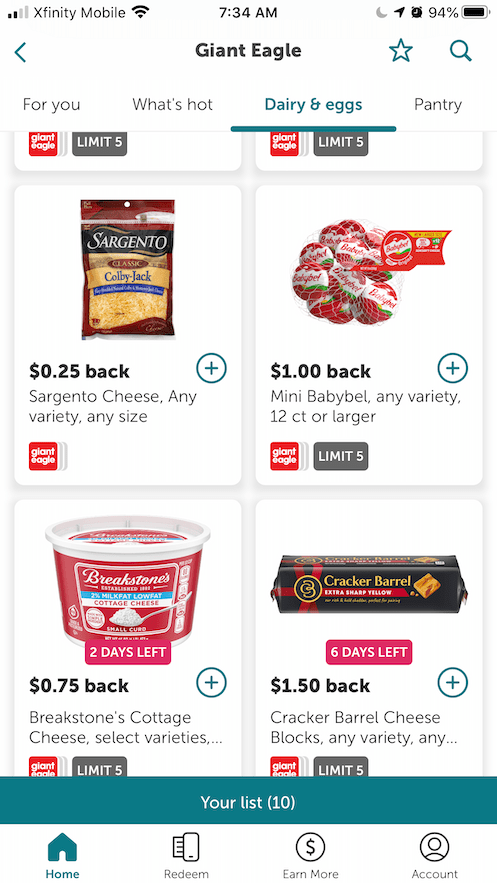 There are two ways to record your purchase to get your cash back.
Link Ibotta to your store account. Once linked, Ibotta will automatically sync the purchases and apply the cash back to your account. It can sometime take up to 48 hours for the cash back to be reflected in your Ibotta account. The key thing for this method is to remember to add your offers to your list in the app before you shop.
Upload a copy of the receipt. You take a picture of the receipt, upload it to the app and Ibotta will automatically detect items eligible for cash back. Receipts must be submitted within 7 days of purchase.
Just like physical coupons, the same offer can be used at different retailers like Target, Walmart, CVS or your local grocery store. And just like physical coupons, once you use the offer at a store, it is automatically taken away from your profile on Ibotta.
Online Shopping
Beyond groceries, Ibotta now partners with more 750 different retailers that lets you earn cash back when you shop at these stores.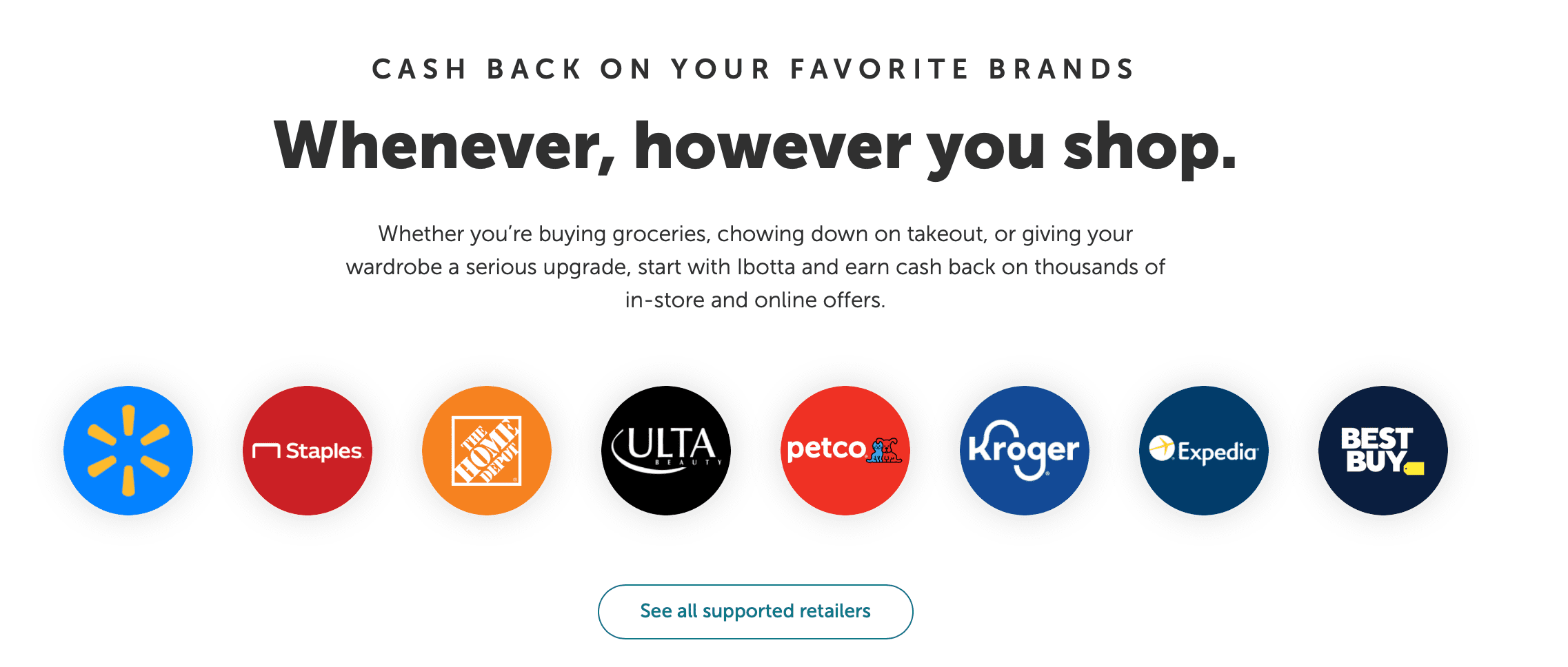 The key is that you have to go to these online stores via the Ibotta online app or install the Ibotta Chrome Extension and activate the cash back offers before you shop at these stores.
If you shop at these stores on Safari or Internet Explorer or any other browser, you will not get any cash back from Ibotta.
How Ibotta Makes Money?
It's often said that if you are not paying for it, you are the product. So is there any catch to using Ibotta? How does Ibotta make money if it is free to use.
According to Ibotta's website, Ibotta are paid by the brands and retailers to advertise and promote the products via the app.
Advertising Revenue as a Coupon Aggregator
As you can see, Ibotta's value add is in providing a completely digitized platform for consumers, retailers and brands to use, issue and track usage of the coupons without having to handle mail in coupons.
Furthermore, Ibotta's greatest advantage over paper coupons is that it has to ability to track redemption rate, click-through rate and users' purchase preference down to the consumer level.
With the use of data analytics, Ibotta will be able to target users with more relevant offers that encourage them to buy more.
When brands and retailers are able to sell more of their products, they would be willing to pay even more to the advertiser who can help them sell more.
Affiliate Commissions from Online Shopping
For online shopping, Ibotta requires that you go the online stores via the Ibotta app or use the Ibotta Chrome Browser Extension.
This is necessary as Ibotta earns its revenue via affiliate commissions from these online retailers.
How this works is that whenever you click on the link from within the Ibotta app or use the Ibotta Chrome Browser Extension, Ibotta will register to a cookie to track your purchases at these stores.
Currently Ibotta has 8% cash back at Udemy, my favorite online learning platform. The amount of cash back varies and over Black Friday, it was as high as 12%.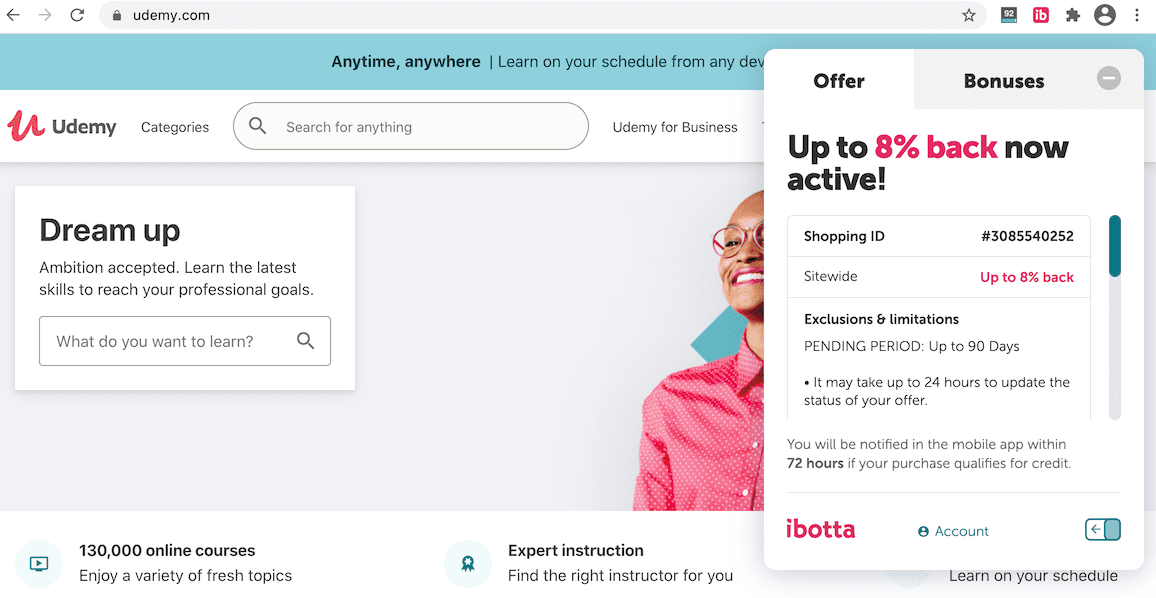 For example, Ibotta now gives 8% cash back on all your purchases at Udemy. Udemy may have an agreement to pay Ibotta 15% commission for all sales that were referred by Ibotta.
In this case, if you spend $100 at Udemy, The Body Shop would pay Ibotta $15 and in turn, Ibotta pays you $8 cash back out of the $15 that they received.
It is a win-win for everyone.
As of today, Ibotta has paid out almost $800M in cash back to its users. So we know for sure that Ibotta is being paid more than $800M by brands and retailers for the platform that it provides.
Should I be worried about all these Data Analytics?
I know, it's a scary thought. Google and Facebook probably knows more about what I am looking for than I know it myself. Amazon has a 20 years history of my buying preferences.
And they are all working hard to tell me what I need to buy next! Do we need one more company to analyze and dissect our spending trends?
Unfortunately, if you already have store card or online account with these retailers, they already have all the data analytics on your buying trends and preferences. So what Ibotta collects is probably nothing new.
On the positive side, when brands and retailers have access to these data, it helps them to refine and improve their products. This in turn benefits us when they continue to create good quality and useful products that we all can use in our lives.
How You can Earn Money with Ibotta
The key to earning money in Ibotta is to use it to buy things that you would buy even if there is no Ibotta.
It is important to resist the temptation to buy things that you do not eat or do not need just because there is a coupon for it. Otherwise, you will end up spending more than you save.
There are four main ways to earn money with Ibotta, earn Ibotta welcome bonus, grocery shopping, online shopping, and referring your friends to use Ibotta.
Earn Ibotta Welcome Bonus
Ibotta is now offering a $20 welcome bonus for new sign ups. It is important to check the terms and conditions for the welcome bonus as they tend to change over time.
In my case, I would be paid a $5 bonus for redeeming any first offer within 7 days of registration. Thereafter, I have to redeem another 9 offers within 14 days of registering in order to earn the remaining $15 bonus.
10 offers within 14 days might seem daunting at first. So I was surprised that I was able to complete the bonus quite effortlessly. This is because, Ibotta frequently offers $0.25 back for any receipt submitted and $0.25 for a bunch of bananas!
So over the course of 7 days, I bought 2 bunches of bananas and submitted 3 different receipts to match 5 offers in total. The bananas on 1 receipt will be considered as matching 2 different offers. On top of that, you get $0.25 cash back for the bananas and another $0.25 cash back for submitting the receipt. 
I am looking forward to collecting many more quarters for my receipts and bananas. It's like finding quarters in parking meters. 🙂
If you are ready for some free money, sign up for you account here. 
Earn Cash Back From Grocery Shopping
Ibotta works with many grocery stores including Walmart, Target, Whole Food, Aldi's and your local grocery chain.
Check the app before you hit the grocery stores to see if there are any coupons for the things that you needed.
For items that you are planning to buy, click on the "add" button and Ibotta will create a shopping list for you.
You can link your grocery store account to Ibotta and all offers will be matched automatically after you check out. However, you must add the items to the shopping list before you check out for the offers to be matched.
Alternatively you can also choose to manually upload your receipt instead. You must also add the items to the shopping list before you upload the receipt. After you upload your receipt, Ibotta will attempt to detect the relevant offers. You can add in any missing offers before you submit the receipt.
It typically takes less than 24hrs for the cash back to be reflected in you Ibotta account.
Earn Cash Back From Online Shopping
Given that Ibotta partners with over 750 retailers, it is likely that there will be a couple of stores that you already shop at frequently.
Option 1: Shop via Ibotta mobile app
Search or browse through the list of online retailers to check if the store you are shopping at is one of Ibotta's partner.
You must click through the link in the app and shop at the retailer from the app in order for your cash back to be registered.
Option 2: Install the Ibotta Chrome Extension
Once installed, the extension will automatically detect Ibotta's shopping partners and prompt you to log in to Ibotta if you are not already logged in. 
Once you are logged in,  it will show you the amount of cash back you can earn at the retailer and you need to click on "Activate" to activate your offer. 
The list of retailers and amount of cash back changes frequently. Therefore, having the Ibotta chrome extension installed is the best way to ensure that you get the maximum cash back that you would be eligible for.
However, unlike cash back from grocery shopping, it could take up to 72 hours to be notified if the purchase qualified for the cash back. And it could take up to 90 days before the cash back is credited into your account. 
During Black Friday, Ibotta had a whopping 12% cash back for courses from Udemy. I am happy to share that my cash back from Udemy was registered within 72 hours of purchase.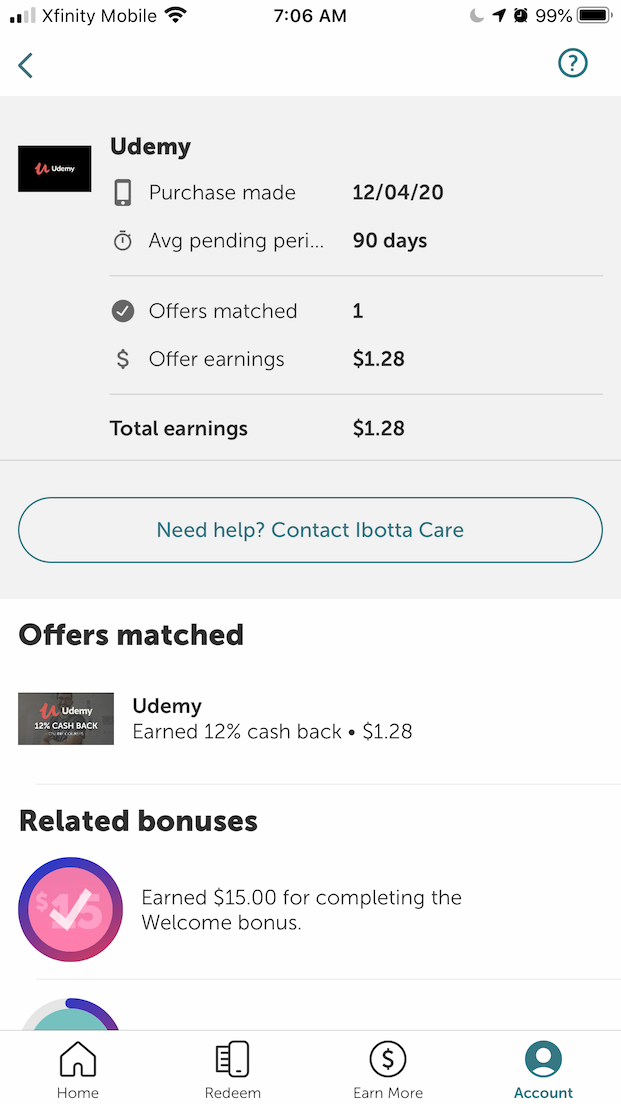 Refer Your Friends to Use Ibotta
Once you have your own Ibotta account, you can start referring your friends to use the app too. You can earn $10 for each friend who sign up with your referral code and your friend gets to enjoy the $20 welcome bonus too. 
Another win-win for everyone.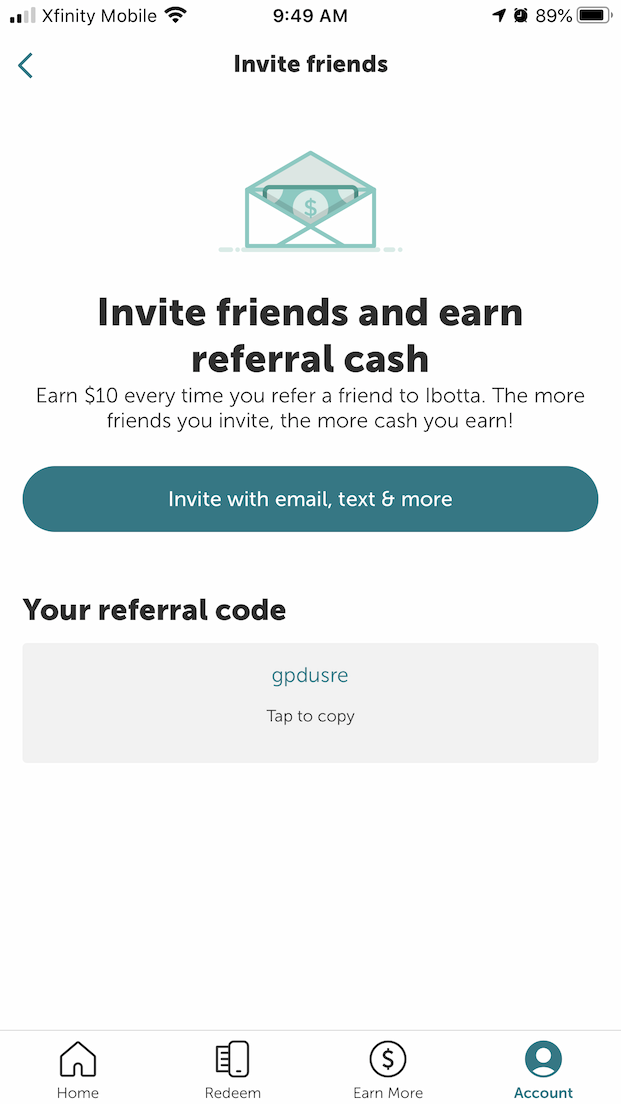 How To Withdraw Your Money From Ibotta
You need to accumulate at lest $20 in cash back before you can withdraw your earnings. Once you have at least $20 of earnings, go to your account on the Ibotta app and select "Withdraw Earnings"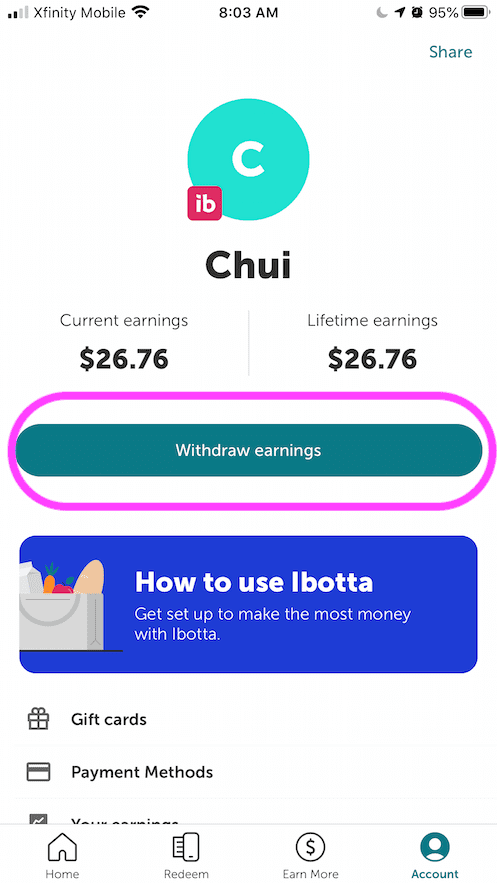 You can withdraw your money in one of the three ways:
Send your money directly to your bank account. Ibotta uses Plaid to encrypt your bank information to send your money to your bank account. You will have to enter the userid and password to your online banking account, but the information is never stored with Ibotta.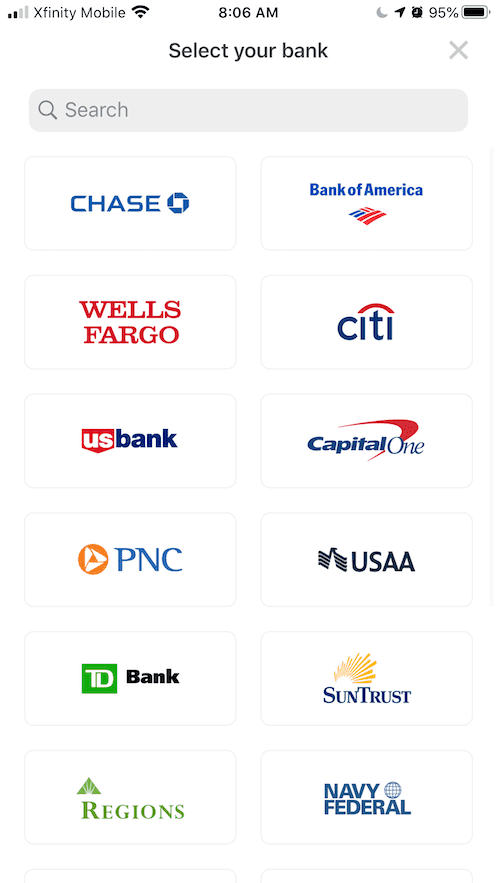 Send the money to your PayPal account. If you do not feel comfortable sharing your bank information with Plaid, you can use PayPal instead.
Purchase a gift card.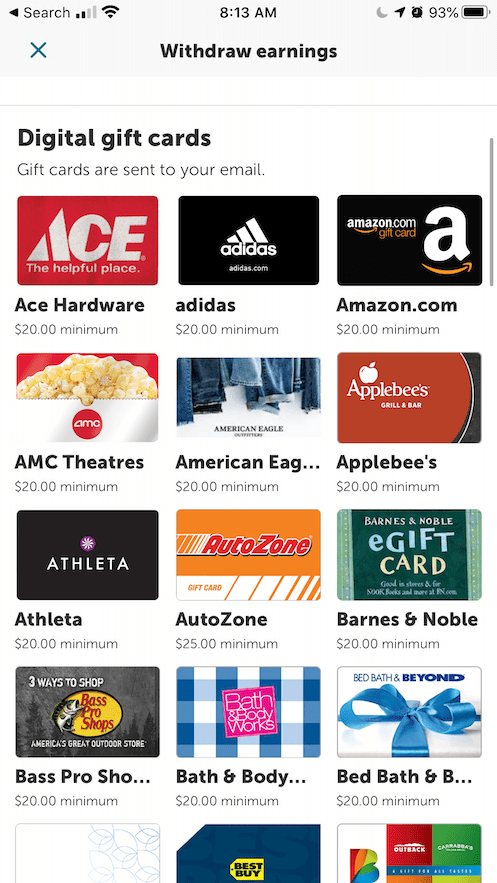 How to Avoid Common Traps of Couponing and Discounts
Coupons and discounts are be a double edged sword. On one hand, it helps you to save money. On the other hand, it can tempt you to buy more than you need.
So the key to earning money with Ibotta is to be a disciplined shopper. Stick to your shopping list and only buy what you really need.
1. Do Not Buy More than You Need
For example, the $1.50 off the Stonyfield Yoghurt might seems like a good deal if you like Yoghurt. However, do remember that Yoghurt is a perishable food item, if you have to buy 2 tubs in order to get the discount, will you be able to finish them before the expiry date?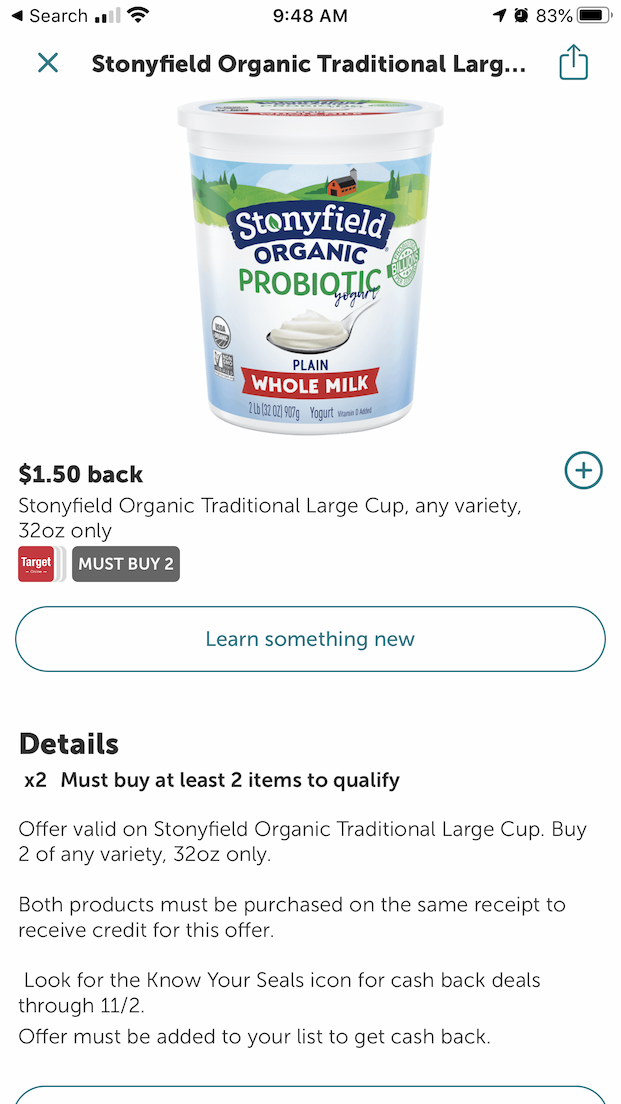 If each tub cost $5, and you bought 2 to get the $1.50 discount, you would have spent $8.50. If you were unable to finish the second tub before the expiry date, you would have wasted and additional $3.50 ($8.50-$5) instead of saving $1.50. 
2. Some Items May be Cheaper At Other Stores or At a Different Time
As savvy shoppers, we are all well aware to price shop before we buy.
For example, in our case, the 8oz Sargento cheese (sliced or shredded) is sold for $2.89 at Target and $3.49 at the local Giant Eagle. However, Giant Eagle regularly has the cheese on sale for just $2.50.
Of course, it would also mean that if it's on sale at Giant Eagle for $2.50 and Ibotta has a $0.25 coupon for it, it's a no brainer to buy it at Giant Eagle for the maximum savings.
Furthermore, there are some items like toilet paper, paper towel and detergent that are often cheaper to buy in bulk at wholesale stores like Costco.
Is Ibotta Worth It?
Ibotta is definitely worth it if you like free money and don't mind a little bit of work to link your grocery store account, install Ibotta Chrome Extension or upload your physical receipts. 
The Ibotta app and the Chrome Extension are really easy to use and I like that you don't have to clip, carry and store coupons all over the place.
Clearly, you won't get rich collecting quarters for each receipt that you upload, but instead treat it like little joys of finding a quarter in a parking meter.
Even if we collect just $0.25 every week, it will add up to a tidy $13 a year. That's more than enough for a couple of nice Starbucks treats.